Nutrient: September
20 Sep 2023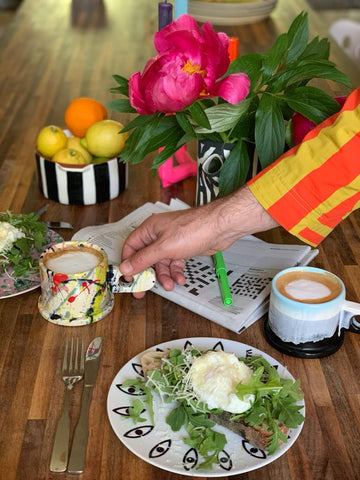 Nutrient: (noun) a substance that provides nourishment essential for the maintenance of life & growth. 
Here are ours for this month - 
Mil:
On a very regular basis I come across people/things for the first time which I feel I really ought to have known about before... how could I have lived this long, for instance, and remained unaware of the joyously playful Dundee-born artist David Batchelor, whose life's work seems to have been informed by an obsession with colour and - as he puts it - the relationship between 2 and 3 dimensions, ie drawing and sculpture? 
I'm fairly sure that Jolene and I have admired the poster for his 2013 show at the Fruitmarket - our favourite wee gallery in Edinburgh, right next to Waverley Station - but I have only just discovered images of the hung show, which led me to get hold of the accompanying publication, and subsequently a second book celebrating another project, which I love even more.
Concretos is a series of works inspired by a chance encounter with some shards of blue glass which had been embedded with uncharacteristic care into concrete along the top of a backstreet wall in Portugal. DB's observation led to a whole new body of work, in which he sets various un-precious items - often offcuts, discarded items or found objects - into a concrete 'plinth' which elevates these previously overlooked/unloved mundane 'scraps' into beautiful artworks.
I love that he takes an idea and just runs with it... it reminds me of something once said to me by Ron Arad, the (terrifiying/intimidating) department head of Design Products when I did my MA at RCA: "good ideas are ten a penny: it's what you do with them that matters". It stuck with me.
By strange coincidence (or maybe not...) it turns out that DB was also the editor of a book called COLOUR - part of the acclaimed Documents of Contemporary Art series of anthologies published by the Whitechapel Gallery - which has been sitting on my bedside table for some time. It's a small world...
 Anyway, apologies to those of you who already know about David Batchelor, and for those of you who are intrigued, here he is talking about his studio & practice.
All photos c David Batchelor
And from one man who loves colour to another....
Eagle-eyed ISP followers will have spotted that we are very lucky to own 2 very irregular ceramic mugs by the fabulous Peter Shire, from which we enjoy our coffee every morning. PS is an american artist/designer whose output includes ceramics, furniture, toys, environments and public installations, and his playfully irreverent spirit made him a great fit for the important and influential Memphis design group, of which he was a founding member.
When we bought these mugs a few years ago it seemed like a great extravagance, but they literally make us happy every single day, and contrary to what you might think, they are also extremely comfortable and ergonomic (but I cannot imagine that this was the principal criterion!) The mugs are probably a good snapshot into his creative process, from which it seems clear that he relishes the challenge afforded by the constraints of production ("How can I make each one fresh?")
Here is a lovely film in which he shows us around his home in Echo Park, LA - the same one in which he was brought up, and has lived in for all of his adult life. 
So here's to investing in joy, and a big thank you to the inspirational Peter Shire, who seems to have no problem connecting with his inner child!
Jolene: 
The Slow Grind: Finding Our Way Back to Creative Balance, edited by Georgina Johnson 
I heard about this publication via an article on Georgina in The Modern House journal, and bought it out of curiosity. It has blown my mind. Unsurprisingly the first run sold out, but it's possible to grab a copy of #1 here.  I don't really know where to begin with describing it, so will cheat and give you a direct quote: "With insight from biotechnologists, activists and key cultural actors, The Slow Grind is an innovative anthology, representing the growing field of Intersectional Environmentalism. Driven by a commitment to socio-political change, through creative and community-oriented thinking, The Slow Grind positions conversations and writings at the juncture of environmental and social justice. This book explores larger questions that relate to the condition of our world, the makeup of our cultural industries and the future of our communities - human and non-human. This is an invitation. One that hopes to encourage the process of recovery through unlearning." It's serious stuff, but also feels hopeful. I love the mini biographies of each amazing contributor at the front, and the reading list / online resources at the back. You can tell how much passion & talent & sheer bloody hard work has gone into making this amazing publication - you should buy it! Follow Georgina Johnson here
Bodies in Urban Spaces, Willi Dorner
Thank you to the artist Emma Lewis-Jones for introducing us to this utterly joyous piece of movement art. Just watch it! 
Image credit JOSE COELHO/EPA