Nutrient: August
22 Aug 2023
Nutrient: (noun) a substance that provides nourishment essential for the maintenance of life & growth. 
Here are ours for this month - 
Jolene:
The Creative Act: A Way of Being, Rick Rubin 
"We can't force greatness to happen. All we can do is invite it in and await it actively. Not anxiously as this might scare it off. Simply in a state of continual welcoming..... If there is a rule to creativity that's less breakable than the others, it's that the need for patience is ever present." Rick Rubin, page 116 
We took this book on holiday last month and both read it. Mil is now suggesting its inclusion on the reading list for his GSA students. I underlined / folded over so many pages and feel it is my new bible. I need assistance to stay positive and trust in things unfolding as they are meant to (unlike Mil who always keeps the faith), and I'm delighted to get help from meditations / crystals / mantras as well as creative geniuses like Rubin who has written a book that seems to have pulled together everything I've been doing my best to learn so far in life. This article sums up The Creative Act perfectly. Which camp are you in?
King of Dinoland - short film by the artist Ted Meyer 
We love meeting new people, which we always say is one of the highlights of our whole pyjama adventure... This month, through another friend, we met the artists Ted Meyer and Anna Stump. They live between the desert & LA, and amongst so many other things (including Anna building an artist designed mini golf course in the pandemic..), made this beautiful short film King of Dinoland about their neighbour, the outsider artist Abe Delacerda. Abe's utter passion and enthusiasm for his wooden art works, amidst the trials of his life, is true nourishment indeed. 
(Born with Gaucher Disease, Ted's personal experience of prolonged stays in hospital served as his artistic motivation. Listen to his Ted Talk here)
Mil: 
As is often the way, sometimes it takes 'outsiders' to bring to your attention what is right under your nose: Ted and Anna invited us to join them for an evening of crazy golf at Golf Fang - part of a chain - located in a former massive industrial unit near the waterfront,  right below the same footbridge we cycle across every day on our way to the studio.
I have to admit I did not have high expectations going in:
"What is the least sweet cocktail you do, please?"
"Ummmm.... this one will get you drunk."
but this was a whole lot of fun. Every hole has a different theme, and the entire experience felt slightly hallucinogenic... like exploring a sinister funfair/theme park designed by Mike Nelson.
Anna won. Jolene got a hole in one. I didn't.
Speaking of things under your nose, we are fortunate to live very near to The Kelvingrove Art Gallery & Museum in Glasgow. So near, indeed, that we regularly put off going to various temporary shows and visiting exhibitions until the very last minute ("next weekend..."), only to discover that the 6 month run has literally JUST FINISHED! (Gah... John Byrne)
...but not this time:
Mary Quant: Fashion Revolutionary
This great show - curated and designed for/by the V&A in London where it ran for almost a year 2019-2020 -  features over 200 original garments, many lent by the original owners, which are used as the narrative linking device to introduce and illustrate the significant moments, themes and innovations which underpinned the evolution of Mary Quant's brand through the period 1955-1975.
I have to confess I had not really known much about her before, and certainly not appreciated her significance on the global fashion stage, but this show illustrates very clearly how pioneering she was: not only in developing a distinctive look & attitude for the time but also 'selling' it internationally, aided and abetted by her husband/partner Alexander Plunket-Green. 
The exhibition features not only clothing & accessories but packaging, promotional materials & samples, accompanied by lots of fantastic archive film that offer a glimpse into her personality and the drive required to make it happen, seemingly fuelled by a restlessly playful creative energy. As she herself said of the time:
"It was a wonderfully exciting time and despite the frenetic, hard work we had enormous fun. We didn't necessarily realise that what we were creating was pioneering, we were simply too busy relishing all the opportunities and embracing the results before rushing on to the next challenge!"
As a big fan of Westwood & McLaren's subversive provocations, it was a shock to see Quant having fun with many of these themes at least 10 years earlier: the re-appropriation of traditional 'city' menswear cuts and materials, injection moulded rubber shoes, reinterpreting tartan in non-traditional materials etc.
So much of the look has been absorbed into the realm of kitsch (Scooby Doo > Austin Powers etc) that it is easy to miss how radical and empowering it must have been at the time. Social history + Style... what's not to like?
Mary Quant: Fashion Revolutionary runs at Kelvingrove Art Gallery & Museum until 22nd October 2023. Dont say we didn't warn you. Even the merch isn't crap.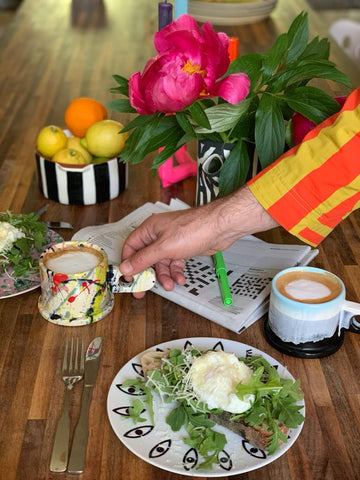 01 Sep 2023
20 Jul 2023