Nutrient: July
26 Jul 2023
Nutrient: (noun) a substance that provides nourishment essential for the maintenance of life & growth. 
Here are ours for this month - with a slightly different format of being 'shared' nourishment... 
Devin Clark Memler, designer / tailor 
JOLENE: Since we launched we've had loads of emails from folks wanting to intern with us, but for logistical reasons we've never been able to take anyone on. Last month we clicked on an email from Devin that made us so excited - I'll let Mil take it from here... 
MIL: A pair of outsize, loose-fit shorts constructed from a vintage Swedish table cloth and based on a 1950s boxing-short pattern, you say? I'm in...
One of the very nice fringe benefits of doing our own thing has been the sheer number of lovely and talented folk we have met over the last few years, many of whom we would never have met otherwise (this is almost exclusively down to Jolene!), even if they live in the same city. I'm not saying that people who like what we do are therefore inherently great people... wait, no... I am.
Anyway, the reason Devin is on the nutrition list is because rather than the easy route (bingeing on box-set TV) he took lockdown as an opportunity to teach himself how to make the kind of clothes he wanted to wear, using carefully selected vintage fabrics sourced from what was available, and designed with a curious, optimistic and open-minded attitude which he summed up to us as "how hard can it be?"! A trained product designer, originally from New Zealand, Devin is now resident in Glasgow and makes beautiful one-off pieces with a great story behind each one but more importantly a great eye for resourceful pattern placement and tailoring. 
Its these qualities, and the underlying ethos of 'slow' which drew us in, and we are very excited to be discussing ways we can work together. I'm always trying to get better at collaboration... to feel secure enough to say "just do your thing" without micro-managing (and consequently ruining) it! You can find Devin on instagram and his online shop. 
Articles of Interest Podcast, specifically the one on pockets
JOLENE: Someone from our lovely instagram community recommended this podcast to me and I love it. When I was young I thought being interested in fashion was only for the frivolous (I was a very serious young person), but of course clothing is political in so many ways, and this series - part of the 99% Invisible podcast which is about all the thought that goes into the things we don't think about - is so rich in detail. 
MIL: This whole podcast series is great, but the history of pockets is especially great, and not just for people who have a pocket fetish. (If you do, you're going to explode with joy)
One of the things we always knew about our own products (before we had designed a thing) was that we needed pockets, and not just 'token' pockets, but useful ones that you can put actual things in, as well as a place to park your hands when they are cold or just flapping around nervously. 
Anyway, most of us have so many clothes now that we probably don't spend too much time really looking and thinking about how they are put together, and why, but the pocket podcast brings me back to Devin, and the way he went about understanding garments through a process of methodical investigation... so much to learn from the study of clothing, and not just the sheer complexity of construction, but the shifting socio-cultural factors which influence what, how and why we wear. Listen here
 Winckle Shop, Antwerp (pictured)
JOLENE: Definitely my favourite shop EVER: the phrase 'treasure trove' was made for Winckle Shop and this fact, combined with owners, stylist turned costume designer Chaja de Vos and her daughter Ruby (plus sister Billie), meant it totally stole our hearts. 
MIL:
Jolene and I have just returned from a week's holiday in Antwerp, and for us part of the joy of exploring new cities invariably involves checking out the local design/fashion scene. In fact, Antwerp isn't completely new to me: I actually used to work for one of the Antwerp 6 fashion designers - Dirk Bikkembergs - many years ago, designing shoes, eyewear and luggage (thanks to my good friend/colleague and ex GSA classmate Bob McCaffrey who got me the gig). It was interesting, I learned a lot and am grateful for the experience but it was here that I came face to face with the harsh reality of the seasonal fashion business, which sat increasingly uncomfortably with me... it wasn't a 'good fit', one might say!
A great memory from that time, however, was a brief trip to Antwerp (the majority of our work was spent in a factory in Italy) which left a permanent impression, and I was excited to revisit almost 20 years later with Jolene...
Winckle is literally right next door to a super-fancy fashion boutique (CDG etc) in Antwerp's city centre, and the moment we walked through the door to the strains of Donald Fagen and the sight of owner Chaja's cheery smile, I had a hunch we were in a very 'us' kind of place. (disclaimer: Steely Dan is def my bag and not Jolene's... she 's a bit more Steeleye Span!)
I have loved charity/vintage shops ever since I was a teenager in the early '80s, trying to cobble together a look that was a bit mod, a bit Clash, a bit jazz/swing (Blue Rondo anyone?). It takes a bit of time to pick up the confidence to try unfamiliar things on just for the fun of it - you might look foolish, but then again maybe fabulous? - but it's a habit which has stuck with me, and I still love trying clothes on just for the fun of seeing how they change the way I feel. Indeed, Irregular Sleep Pattern is a manifestation of this resistance to 'dress appropriately'!
Anyway, Winckle is the best kind of used-clothing store: a great selection of interesting garments curated by owners who actually care and know about every item, from fantastic deadstock workwear to vintage designer pieces by local designers (Dries Van Noten, Ann Demeulemeester etc). I love meeting shopkeepers (or indeed anyone) who really care about their stuff, and Chaja's background in photography and styling is evident in every moment of this shop. Creative, eccentric and joyful in the best way, this was a delightful 'brand experience' built on a genuine passion for the evolving stock and carried through to the playful interior ambience, product display, charming bespoke business cards and customer interaction. We spent a lot of time there; talking, trying things on for the joy of it, laughing.
Clothes shopping is a fun way to make friends - this was great. Or, as Chaja might say... pfff! You can find Winckle on instagram. 
10 Aug 2023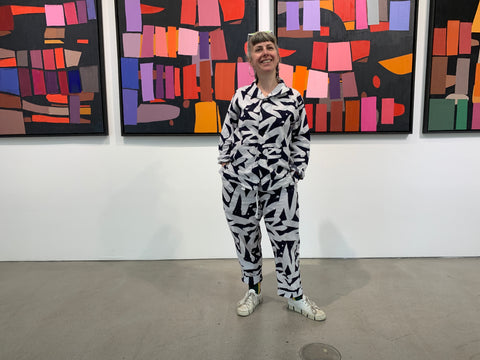 15 May 2023