Nutrient: june
14 Jun 2023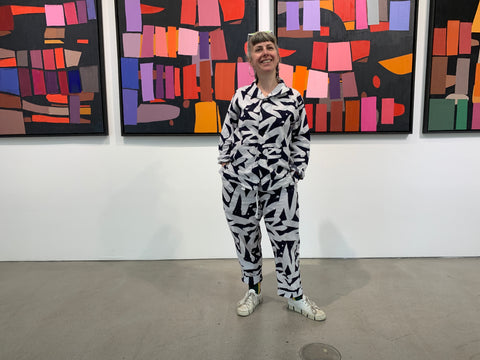 Nutrient: (noun) a substance that provides nourishment essential for the maintenance of life & growth. 
Here are ours for this month. 
Mil: 
Bernat Klein - Influence & Inspiration exhibition 
An unassuming but joyful treat awaits visitors to the Charles Rennie Mackintosh designed House for an Art Lover in Glasgow this summer (as seen in image above - Jolene not included normally), in an elegantly designed celebration of the textile designer Bernat Klein (1922-2014), who ran his eponymous design studio and production facility from his home in the Scottish Borders between the early 1950s and late 1980s.
 As with many things I find myself drawn to as I get older, I am amused to note that even before I understood the connection myself, I already had 2 BK 'products' in my own home: Design Matters, his personal manifesto/call to arms for the importance of good design, and an extravagantly flamboyant 2 piece women's 'party outfit' in an eye-popping printed polyester belonging to my mum, which she will have bought in the late 60s or early 70s. Further synergy... Klein was born in Serbia (my own paternal roots are in Bosnia), moved to Scotland where he founded his business with the support of his wife, who was also a key player in the business, designing many of the garments produced by the label, while Bernat focused on the design of the fabric itself.
So, while Missoni were carving out their own slice of contemporary knitted textile history in Italy, Bernat Klein was simultaneously pioneering new techniques to realise his singular vision, leading to success both as a brand in its own right and as supplier of premium fabrics to customers within the fashion and interiors sector.
The exhibition in Glasgow is housed in the Studio Pavilion, and features a selection of Klein's paintings and a nice display of swatches, press cuttings & sample sketches alongside a curated presentation of films which together work beautifully as an introduction to the man and his lifelong obsession with pattern, texture and colour. I also picked up a copy of the new monograph, designed by the consistently excellent Graphical House, which is richly illustrated and features a contribution from my GSA colleague Lynsey Calder - an actual print designer! - who very kindly helped me with last christmas' fundraiser over-printed shirt/t-shirt marathon.
The exhibition runs until 20th August 2023, and is accompanied by a separate little exhibition, situated in the main building of the House for an Art Lover, documenting the restoration of High Sunderland - the Klein family home in Selkirk - designed by modernist architect Peter Womersley and functioned not only as a light-filled family home but also as corporate entertainment space, exhibition venue and fashion runway.
If you happen to be lucky enough to get to Glasgow and see this, check out the beautiful walled garden right next to the Studio Pavilion, and we also recommend the lunch specials at the cafe, which were a surprisingly delicious treat on a hot summer's day. For folk needing a bit more Mackintosh than the ongoing Glasgow School of Art scaffolding spectacular, the House for an Art Lover is also rather lovely, especially the more intimate spaces on the upper floors.
Bartleby
I stumbled across the soundtrack to this 1970 film in a typically 21st C manner: a single track wedged between a myriad of other weird gems on a Spotify playlist put together by Leeds-based english band Yard Act, who I saw last month at the legendary Glasgow Barrowlands, a big step up from the last time we caught them at the very more intimate setting of the Hug & Pint. (YA are great, but I don't want you to get distracted... this is about Roger Webb!)
Based on a short story by Herman 'Moby Dick' Melville, Bartleby tells the melancholy tale of a young man who refuses to conform to societal expectations, choosing instead to slowly fade out of existence (if you're looking for a conventional 'feel-good' story, avoid!). This version relocates the narrative to London of the late 60s/early 70s, where the production design and overall mood sits on the edge of post-war austerity and modernist optimism. 
Available to view here in its entirety - but punctuated with regrettable ad breaks, I'm afraid - the standout performances by John McEnery and Paul Scofield are underscored by a wonderfully loose, jazz-infused score by English musician/composer Roger Webb, whose name I didn't recognise but who worked prolifically in film and TV between the late 60s and 90s. 
Apparently the soundtrack remained unreleased until 2021, which is perhaps why it hasn't been sampled to death already. I'm feeling it. (Warning: contents may include jazz-flute)
Jolene: 
Cobden-Sanderson's lost typeface. 
When I was in London recently my friend and I went for a beautiful walk and some food along the river at Hammersmith, passing the former Dove's Printing Press run by Cobden-Sanderson, a friend of William Morris, the father of the arts & crafts movement. That night I couldn't sleep and so turned to BBC Sounds where there happened to be the audiobook Mudlarking by Lara Maiklem that included the story I had known but forgotten of the elderly Cobden-Sanderson making 170 trips on foot to throw his entire hand-carved 'Dove's' typeface, weighing over a ton, into the Thames, because he couldn't bear the thought of his former business partner using it after he died. Read more, and watch a short film about the rediscovery of the type here. I can't quite put my finger on why I like this so much, but I suppose it resonates with my love of stories (the only constant through my odd career that has spanned a social history degree, being a musician, documentary making and now our brand). In an age of digital ubiquity, which of course includes access to thousands of digital fonts on every handheld device, it's easy to become distanced from the origin of things: where did the idea come from, who made it, who produced it. 
First Hand Studio clay therapy sessions 
Further mud related magic has revealed itself in my life of late in the form of 'clay therapy' sessions at First Hand Studio, devised & run by the Glasgow artist Rhona Warwick Paterson.
The process is described as "focused attention without intention for increased well-being, creativity and concentration". Rhona writes, "Clay has the ability to feedback every imprint we make. The haptic sense of touch is the most fundamental of all human experience. The decline of haptic perception through screen use has gradually distorted our sensorimotor experience, leading to increased levels of anxiety, loss of empathic response, depersonalisation and sense of fragmentation. Following years of research into this material and its impact on my own practice as an artist and writer, I've spent the last year testing various methods in order to recalibrate my own focus and inner connection. I've consulted with neuroscientists, clay therapists, and artists to hone a method that after only one session of 50 minutes, meaningful shifts are achieved, these include the forming of new synaptic connections in the brain, and 'flow' states for enhanced creativity and productivity. Haptic engagement has proven to soothe the central nervous system and the mind and body is flooded with a sense of wholeness similar to a session of intense meditation."
The sessions have been so good for me and arrived right when I needed to reconnect with my creativity: I have cried and released grief, giggled with pure childish delight, and floated out of the studio on a cloud of peace & tranquility. Find out more here. 
20 Jul 2023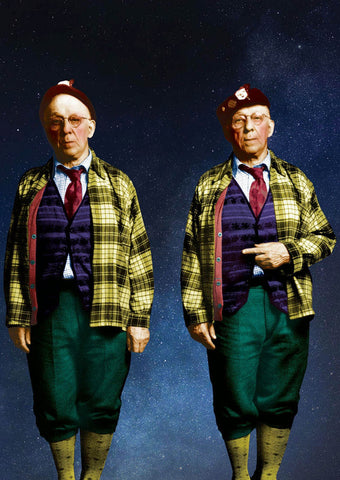 10 Apr 2023