we asked, you answered, we respond!
05 Feb 2023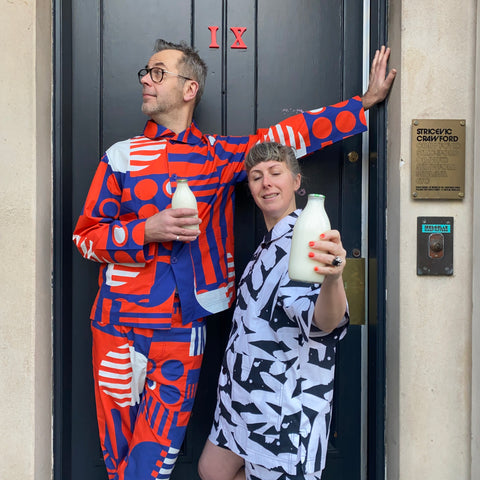 It's 2023! 
If you've been following us for a while, you will know we've been in a holding pattern with very limited stock while we searched for a new factory [it's taken 2.5 years!], and although it has been stressful, we are so excited to finally have things to sell, and to be making plans for the future...
We sent out a survey on our mailing list asking for feedback on various issues. Thank you to everyone who responded. Below we have answered some of the main points raised. And we are very grateful for all your beautiful positivity about what we are trying to do with our brand - it makes all the hard work (and no pay!) worthwhile. 
This is one of our favourite customer quotes about why they love ISP: 
"I love the community aspect - I've had people come up to me at busy festivals saying they have the same jacket and it's opened up conversations with like minded lovely folk." 
OUR IRREGULAR SIZING 
We are aware that our custom sizing is tricky and takes effort on your part to figure out what to order. We have changed the size chart to include references to 'regular' sizes which should make things easier. We are also delighted when people email us to ask for help!
Our high waisted, lightly tailored trousers require particularly careful measurement on hips / bum but they do look FABULOUS when on, and we think definitely worth the extra hassle..... these are no ordinary pyjamas! 
Gold star to the respondent who said: "I finally bought a tape measure as have started buying from other slow retailers, so am more confident now". YES! This is essential.... 
We have also created what we are calling our "body library" - a whole new sizing page that features people in various sizes of our pyjama suits, because we absolutely understand how helpful it is to see garments on actual people. I might as well also include this DIY video of me showing that although I can fit the size 1 trousers, I prefer the size 2. My waist is 77cm and hips 101cm (I think I get that measurement wrong in the video) for reference [size 8-10 on top and 10 - 12 on bottoms].
THE PRICE OF SLOW FASHION 
We understand that our goods are not cheap, and you guys understand that manufacturing in eco fabrics in an ethical way in really small drops simply costs a lot. Organic cotton has increased in price by 40% since we launched in 2020. 
PYJAMA CONSTRUCTION / SIZING
Our new classic pyjama suit / short pyjama suit trousers have a button opening waistband with a drawstring, and a reinforced fly with button closing. 
We have also just worked start with a very experienced plus sized grader / pattern cutter based in Canada to further improve our larger size offerings, and we hope to implement these changes on our next full new collection later this year as we know some people fall between our sizes 4 & 5 at the top of the range due to the grading leap. This will be resolved, and we will have a size 7 at the top end of the scale. 
PATTERN / COLOURWAY / PRODUCT UPDATE 
Because we are entirely self funded, we are limited as to how much we can manufacture in each drop.
We know lots of you are hoping we will bring back some of our sold out original colourways, and WE WILL!, but it takes a major amount of capital to carry a big range, and we just aren't in that place yet. 
Mil has already designed a full new collection (sneak preview below) which we will start colour testing soon. We hope to release these 4 of colourways across the sleepwear range, including bedding, later this year. 
GOWN: Some of you were asking - we are in the very early stages of thinking about what an ISP robe / gown would look like...
For now, thanks as always for being here, and you too can be proud to be on your doorstep in your pyjamas if you are Irregular like us 
JOLENE & MIL, GLASGOW, FEB 2023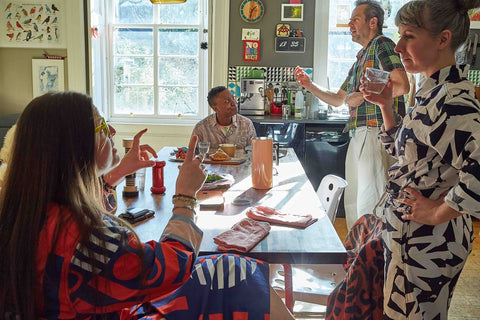 27 Mar 2023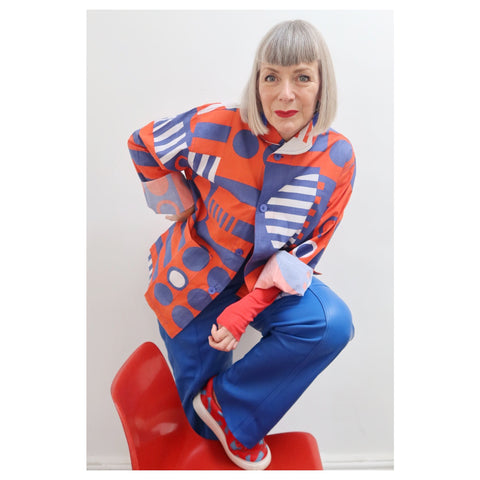 11 Nov 2022