HOW HARD CAN IT BE TO MAKE A FEW PYJAMAS?
04 Mar 2022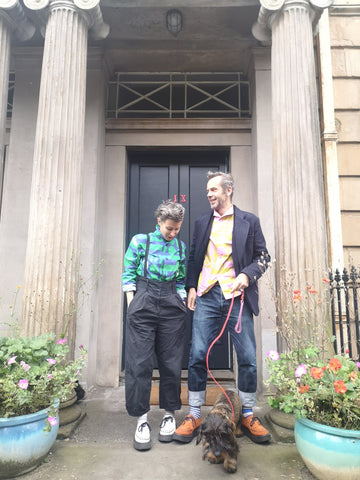 People often ask us 'do you make the pyjamas yourself' which makes us giggle - manufacturing is SO complicated, and needs to be done by really skilled people (we're not makers). PLUS we work paid jobs, and run the business out of our flat! Anyway - at this juncture where we are struggling to find a new ethical factory that gives us a viable profit margin, I thought it might be interesting (or maybe not!) to share our journey so far. 
We first had the idea for the business when we moved into this flat in 2015, but it was kind of an off-hand comment stemming from the fact we couldn't find a duvet cover we loved. Two years later I turned 40 and Mil 50. I was ready for a change of career and it seemed like a good 'now or never' point, so we decided to go for it. We spent about 2 years in R&D while both working really demanding jobs: 
1) Mil designed the physical shape of the suit by sketching it out, then taking it to a pattern cutter in Glasgow to begin the process of sampling. We went through a few iterations, then had a paper pattern to work with. 
2) While Mil was thinking of the actual printed patterned designs, I was trying to find a factory to make our sample collection here in the UK. As a TV producer I was used to making the impossible happen on tiny budgets and short timescales, but BOY is it hard finding factories, as it all happens by word of mouth and no-one wants to share! 
3) We were finally recommended Fashion Enter in London who were brilliant. Mil had to travel up and down from Glasgow for the one hour fittings, but it was so exciting to see our vision come to life. However, Fashion Enter told us they couldn't take our designs into full production as it would just be too expensive for them, and for us as a result. BUT we learned loads about the process, and they were a pleasure to work with - highly recommended for stage 1. 
4) We then sampled with a tiny local factory, but it was really obvious that as well as costing far too much per pair of pyjamas (essentially around £100 with fabric), we needed a much bigger operation where they can cut in bulk rather by hand, and also had the twin needle sewing machines so essential to our design. 
5) I sent off countless emails to factories, and finally someone I knew told me about a broker in Portugal who had worked with another Glasgow brand. Rosie was really lovely to work with, and held our hand as we learned, but the sticking point was that if we were to make the industry standard profit margin of 70 - 80% our pyjamas would need to be priced in the super luxury bracket of over £350. We didn't want to be those guys, so researched the competition (who largely don't use organic cotton as standard but sell at the price we do) to set an RRP, and decided to just launch, test the market and worry about solving the profit margin issue at a later date. 
6) We made a second large (for us) order of pyjamas in winter 2020, but already began looking for a new factory. We were confident, having sent our wares all over the world, that we indeed had found a gap in the market but now needed a way of having a business that was financially sustainable.... We were recommended another factory in Portugal who worked with major high end high street brands, but they tried two samples for us, and it was like they hadn't even looked at the pattern. So we were back to the drawing board and this process of not finding a factory has continued for over a year. 
This is so far the hardest / most stressful point in our business. We have gained momentum, but now have hardly anything to sell, yet monthly debts and the general costs of running things (without paying ourselves) to service. Being self funded and wanting ethical and organic production definitely makes things much more challenging, but we are trying to stay POSITIVE and believe that the universe will provide if we keep casting our net.... pattern and colour are good for the soul, right?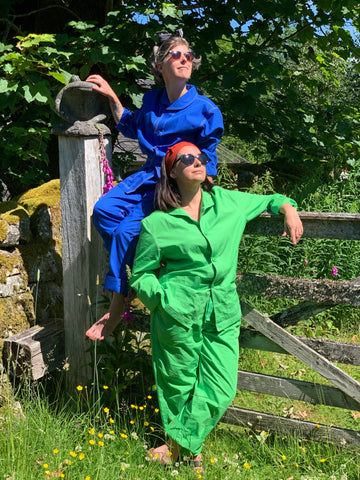 27 Apr 2022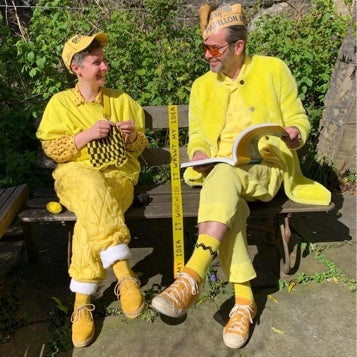 07 Feb 2022