The Irregular Community's Guide to Good Things
16 Jan 2022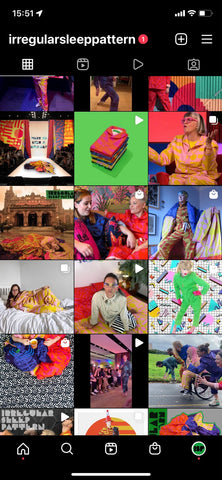 In the first week of January I reached out to our fabulous community via social media and the mailing list to ask what stuff kept them going last year, and here we have it! A perfectly Irregular selection of things as you would expect. 
DO
Get outside even if the weather is awful. [MIND has more on this, and ideas to try]
Start to swim outdoors – it's challenging and sometimes cold but blimey, you feel so alive and like you could conquer the world [The Outdoor Swimming Society has good information. Most places have a local group to join]
Volunteer [The NCVO is a good place to start]
Start drawing again #walktosee encourages drawing in the wild [this hashtag is on facebook / insta / twitter, but this article  from a few years ago also has good tips]
Eat good stuff with the help of @optimizemenutrition 
Reading & Records – hang out together in the same room with books & music – super simple, works for all ages. 
Ringfit Adventure on Nintendo Switch "surprisingly fun & robust and helps me beat away the dark clouds of mornings"
Cook a recipe that reminds you of someone you love
Go mushroom hunting [you have time to swot up before the Autumn!]
Have counselling 
I'm indulging in Sheldrick Wildlife Trust by adopting elephants... (I now have 3 maybe 4 who knows?) and watching all their reels.  Just adorable - it makes me cry like a baby but in a lovely way.
I've just discovered CBD and find I'm so much more focusses and productive when I take it.
Because the pandemic changed everything and I felt I had no control I made a big hair change. It unlocked something in my that I didn't know was buried. I have since changed careers, cities, how I dress, how I love and started identifying as queer (with the loving support of my husband). Sometimes the start of something beautiful comes out of an action you made in a rut. And it can totally catch you by surprise and make all the shit you had to shovel along the way worth it.
READ
How to Be Alone, Lane Moore [The Ted Talk is here]
"In funny, super relatable, and smack-you-in-the-face-with-how-thoughtful-it-is prose, Moore talks about crushes, identity, feminism, and finding self-worth when everything inside you is telling you that you kind of suck. Funny enough, How to Be Alone made me feel a lot less alone."— Marie Claire 
Circe, AND The Song of Achilles by Madeline Miller [recommended by two different people] 
"Miller gives voice to a previously muted perspective in the classics, forging a great romance from the scraps left to us by the ancients. . . Circe is, instead, a romp, an airy delight, a novel to be gobbled greedily in a single sitting." ―The Guardian
Clarity and Connection by Yung Pueblo
In Clarity & Connection, Yung Pueblo describes how intense emotions accumulate in our subconscious and condition us to act and react in certain ways. In his characteristically spare, poetic style, he guides readers through the excavation and release of the past that is required for growth.
And Away, Bob Mortimer [ or just watch his best bits from WILTY]
Your Own Kind of Girl, Clare Bowditch
"The words that kept coming to me over again as I read this book were authenticity and decency. Clare Bowditch made me feel how wonderful and difficult and amazing it is to be a human." - Leigh Sales 
Animal by Lisa Taddeo
"Lisa Taddeo's Animal is pure literary theatre, a blood-slicked cabaret" - Times Literary Supplement
Love after Love by Ingrid Persaud
WINNER OF THE COSTA FIRST NOVEL AWARD 2020 - Brave and brilliant, steeped in affection, Love After Love asks us to consider what happens at the very brink of human forgiveness, and offers hope to anyone who has loved and lost and has yet to find their way back.
Loved Clothes Last by Orsola de Castro
Running out of space for the clothes you can't stop buying? Curious about how you can make a difference to the environmental challenges our planet faces? Join Orsola's care revolution and learn to make the clothes you love, last longer.
Rose Nicolson, by Andrew Greig 
A vivid, passionate and unforgettable novel of this most dramatic period of Scotland's history, told by a character whose rise mirrors the conflicts he narrates, the battles between faith and reason, love and friendship, self-interest and loyalty.
LISTEN
Podcasts
PANTS is the nostalgic hug of a podcast that queer women need during the pandemic. It allows us to reconnect to the characters that we came of age with, and that connection is comforting and familiar. But even if you aren't a lesbian – even if you have never heard of The L Word, and even if the names Alice and Shane mean nothing to you – PANTS can bring you a similar joy Podcastreview.org 
In slow, thoughtful conversations, writers and performers share their wisdom on enduring difficult times. Frank, vulnerable, melancholy and redemptive, The Wintering Sessions burrows deep into the complexity of being human.
This opinionated and good-humoured show blends pop culture and academic research to debunk the junk science behind America's $71bn weight-loss industry. Independent.ie
How To Fail With Elizabeth Day is a podcast that celebrates the things that haven't gone right. Every week, a new interviewee explores what their failures taught them about how to succeed better.
Each night, Kirat Assi would fall asleep to the sound of Bobby's breathing. Separated by an ocean – him in New York and her in London – their relationship, first platonic then romantic, lasted throughout her thirties. Except they never met, and Bobby, she later discovered, did not exist. 
Audio Book
Over the Top , Jonathan Van Ness
A laugh-and-cry-out-loud memoir from the beloved star of Netflix's Queer Eye, Jonathan Van Ness, sharing never-before-told, deeply personal stories of growing up gay, transforming pain into positivity, and embracing what makes you gorgeously different.
Taste, Stanley Tucci
Taste is a reflection on the intersection of food and life, filled with anecdotes about growing up in Westchester, New York, preparing for and filming the foodie films Big Night and Julie & Julia, falling in love over dinner and teaming up with his wife to create conversation-starting meals for their children. Each morsel of this gastronomic journey through good times and bad, five-star meals and burnt dishes, is as heartfelt and delicious as the last.
Music
Discovering Parcels and seeing them live in London. 
Meet Parcels, the Aussie band who've worked with Daft Punk and sound like The Beach Boys gone electro-disco. Read more here Listen here
WATCH
Ted Lasso – "gentle and wonderful" (Apple TV)
Gogglebox – "I discovered in 2021 (much too late to the party I suspect) that nothing, NOTHING finishes off my week quite like necking a few glasses of red in front of Gogglebox. As the hour-long show progresses and the wine kicks in I laugh more and more and more til there are tears running down my face. Jenny and Lee is their static in Hull reviewing telly that I have no intention of ever watching. The Siddiqui men, who I love more than all of the rest of the cast combined. And Amani and Amira are comedy gold and NEED their own show."
Seeing Allred (Netflix). "Released in 2018 but only watched by me last week. It had me fascinated and impressed by some cool haircuts and the type of dedication to change that makes you wonder "what the hell have I been doing with my life" Go Gloria!"
It's a Sin "The best TV series I've seen in ages, it was funny, touching, devastatingly sad, and it captured the time period perfectly with brilliant actors in every role."
HERE'S TO THIS YEAR - LET US KNOW IF YOU SAMPLE ANY OF THE ABOVE!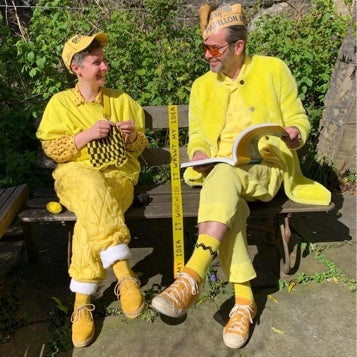 07 Feb 2022
15 Dec 2021